PRO BUT INTUITIVE 128CH CMS
07/06/16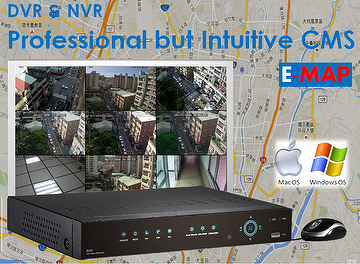 E-MAP PRO CMS
Introducing EZ-WATCHING CMS, a professional but with intuitive windows-like interface software for Windows and MAC OS. All EZ DVR and NVR come with this free CMS. 98% DVR/ NVR functions are available in remote CMS.
The CMS is with user-friendly GUI control panel. Max. 128CH live view with group management and 4CH synchronous/ asynchronous playback. Adding a device with either IP or P2P ID, exporting it to a pre-set folder. With P2P ID to get rid of complicated IP configuration. In remote/ local playback, users could select channels from differenct devices. Async. playback helps searching different channels' time in the same screen.
It features E-map, voice intercom, local alarm config. with motion pop-up, local record management, and local log search.
E-MAP
Simply add a map and drag cameras to where they are installed. It's easy to search cameras by location. Double click on the camera icon to have instant live view. In live view, users could do snapshot, record, and digital zoom in. For easier recognition, group the cameras with different colors and modify camera name properly.
VOICE INTERCOM
If DVR, NVR, and IP Cameras are connected to speaker and microphone, turn on audio to hear the voice; click on voice intercom and speak to PC mic., people around NVR/ DVR/ IPCAM speaker will hear what you say.
LOCAL ALARM CONFIG. MANAGEMENT
Local alarm configurations to motion, video loss, and I/O input. Alarm sound out in video loss. Once motion or I/O is detected, capture, record, pop-up, or alarm sound will be triggered. Guarders could notice the unusual situation via alarm sound. The abnormal channel will pop-up to warn the observer as well. Supporting customized alarm strategy to each channel. Users could manage groups of cameras/ channels with different alarm actions. For example, CH1~6 in Device A, with motion pop-up and motion alarm sound; CH1~2 in Device B and CH4~6 in Device C, with video loss, trigger capture/ record.
LOCAL RECORD MANAGEMENT
Options of mainstream and substream. Either record high quality with mainstream or use substream record to save storage. Select the channels to be recorded locally from different devices. Supporting customized local record strategy. Users could manage groups of cameras/ channels with different schedules. For example, CH1~6 in Device A, substream record everyday; CH1~2 in Device B and CH4~6 in Device C, mainstream record on Monday to Friday.
LOCAL LOG SEARCH
Searching CMS log by options of user name, log type, group, and time. Users could backup the search result and view backup in the same page.
A brief video to introuduce EZ CMS functions, such as live view, remote playback, E-map, local record management, local alarm management, multiple windows, and easy file searching.