PRO 16CH 4K POE NVR
24/05/16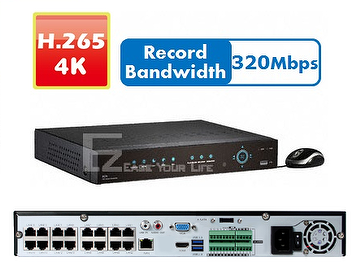 H.265 16CH 4K POE NVR
Introducing EZ-WATCHING 16CH 4K PoE NVR. 16CH 4K real-time recording. Built-in 16CH PoE ports and 48VDC PoE switch. With standard PoE 802.af and Giga (1000Mbps) WAN port.
The NVR is built-in e-SATA and USB3.0 interface for backup. The speed of USB3.0 is 10 times faster than that of USB2.0. With16CH Alarm In, 1CH Alarm Out, and RS485 Interface. Support voice intercom achievable in IE, CMS, and App. Connect a microphone to NVR "LINE IN" and a speaker to NVR "AUDIO OUT". In remote IE, CMS, and App, turn on audio to hear the voice; click on voice intercom and speak to PC mic./ mobile phone mic., people around NVR speaker will hear what you say. The microphone and speaker could be put in control room or the place where you would like to warn the intruder.
Features with dropbox cloud storage, instant 5-min. playback, failure notice, and NTP. To avoid exceeding e-mail box size, users could send motion snapshots/ captures to cloud Dropbox. A fast icon in live view allows users to check instant 5-min. playback in one channel but the other channels remain in live view. Failure notice of disk full, disk error, and video loss by alarm out, buzzer, show message, or send email. NTP (Network Time Protocol) helps to calibirate the time of all IP cameras and NVR to be synchronized.
Free intuitive and user-friendly CMS; 128CH live view and 4CH synchronous/ asynchronous playback. Users could select channels from different devices for remote and local playback. Playback could be syn. or async. Async. playback helps searching different time of different channels in the same screen. 95% NVR function is avaible in remote CMS. In our CMS, it allows "Local Record Management". Select the channels to be recorded locally from different devices. In "Record Schedule Strategy", users could set different schedules to different groups of channels. Alarm in CMS is possible. Once motion is detected, triger capture, triger record, triger pop-up, and alarm sound could be enable. People in control room could notice the unusual situation via alarm sound. The abnormal channel will pop-up to warn the observer as well. In "Alarm Configuration", users could manage groups of cameras/ channels with different alarm functions.
EZ-WATCHING use in-house App with 16CH/ 32CH live view and 4CH playback. Receiving push notification once motion is triggered. Voice intercom is available. That is, you could hear the sound from IP camera and speak to the people over there. Users could playback remotely from NVR HDD and select the record type to be played, such as normal, motion, IO Alarm. During playback, users could hear the sound if sound is recorded and do snapshot/ record. Sanpshot and record to mobile devices with auto file management. Stream-switching between main, sub, and mobile is possible in the App. If bandwith permits, users could see videos in high resolution. To avoid distorted pictures, screen ratio is selectable by stretching, original, 4:3, and 16:9.
Fast Icon for Instant Playback
A fast icon in live view allows users to check instant 5-min. playback in one channel but the other channels remain in live view.