ALL NEW APP
03/05/17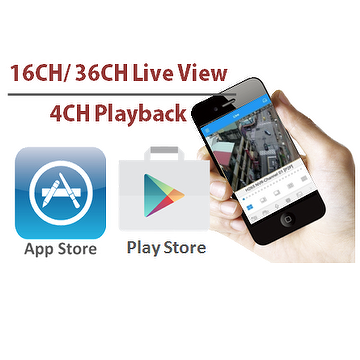 All New App
Introducing EZ-WATCHING "RXCamView", a professional App with favorable functions and intuitive interface. EZ DVR, NVR, and IP camera work with this App. It could be found in App Store and Android Play Store. A dedicated version to iPad with specific UI.
The App supports 16CH/ 36CH live view, 16CH for mobile and 36CH for iPad. It supports 4CH sync. or async. playback, searching footages by types (all, normal, alarm, motion). Async. playback helps searching different channels' time in the same screen. Adding a device with either IP or P2P ID. With P2P ID to get rid of complicated IP configuration.
It features export devices, digital zoom in/ out, stream adjustment, image management, push notification, voice intercom, and distortion free.
EXPORT DEVICES
An embarrassing situation is that a list of devices is in phone A but it needs to be shared. How to share to others? Enter ID/ IP, port, user name, and password one by one!? It's ok for one or two devices but it is frustrated if there are multiple devices. Here is the best solution. Simply select devices to create a QR code. Then, scan the QR code to export all devices. Max. 9 devices to be exported at the same time.
DIGITAL ZOOM IN/ OUT
Multiple-touch for zoom in/ out in preview and playback. It works in both iOS devices and Android phones.
STREAM ADJUSTMENT
Adjust preview resolution/ bitrate based on bandwidth. Enjoy high quality video under better bandwidth; enjoy smooth video under worse bandwidth. Switchable between main stream, sub stream, and mobile stream.
IMAGE MANAGEMENT
All snapshots are well managed automatically. Shortcuts for easy share via e-mail, Skype, Line, What'sApp, Bluetooth... It supports the function of auto play.
PUSH NOTIFICATION
When en event is triggered, a push notification will be sent to your mobile device; one-finger tap to have instant live view.
VOICE INTERCOM
If DVR, NVR, and IP Cameras are connected to speaker and microphone, turn on audio to hear the voice; tap on mic. icon to speak back.
DISTORTION FREE
Adjust proportion based on the size of your mobile devices.
Options: stretching, original, 4:3, 16:9
A video to show the function of export devices. Simply select devices to create a QR code. Then, scan the QR code to export all devices.